A North Carolina woman has taken to Tiktok to share a unique strategy that her family uses to ensure that everyone puts in an equal amount of effort on Thanksgiving.
Colleen Rast Cederberg, 31, said the "Thanksgiving Draft" is complete with a point system and each family member must do their part.
Rast Cederberg is the middle of her five siblings and noticed that as the holiday season hit, there was an imbalance between what her older sisters and younger brothers were doing.
ARIZONA GRANDMOTHER AND THE STRANGER SHE MISTAKENLY TEXTED IN 2016 WILL CELEBRATE 8TH THANKSGIVING TOGETHER
"My sisters were spending all day cooking and my brothers were spending all evening cleaning and I was just kind of hearing from both sides that there was kind of an imbalance," Rast Cederberg, the operations manager at Cederberg Kitchens & Renovations based in Chapel Hill, told Fox News Digital.
She said she was determined to find a way to get everyone "to contribute equitably" and be held accountable for their own task(s).
"This is how I do Thanksgiving so that my siblings and I don't kill each other," Rast Cederberg says in her TikTok video, which has 650,000 views and counting.
THANKSGIVING QUIZ!: HOW WELL DO YOU KNOW THESE SURPRISING FACTS ABOUT THE ANNUAL HOLIDAY?
"We give every dish a point value from one to three. The cranberry dish is a one and the turkey is a three."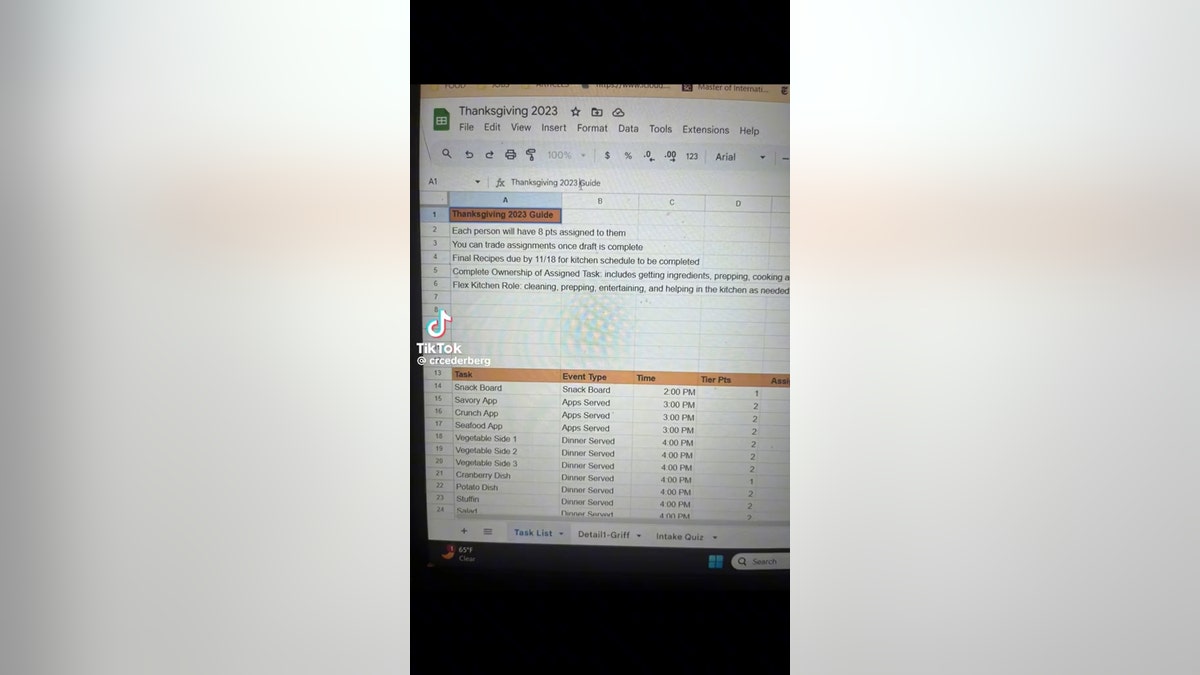 In the weeks leading up to Thanksgiving, the North Carolina family will hop on a video call and everyone will pick what dishes they want to make.
"We all draft what dishes we want to make. We also do this thing called 'flex kitchen' which means you basically hang out in the kitchen for an hour and our job is to keep the kitchen clean – so unload the dishwasher if it's ready, helping out the people cooking, whatever it takes to keep the kitchen moving."
Rast Cederberg made the tasks weighted and "ascribe value" to certain points so that everyone would reach a total of eight points no matter the task.
CLICK HERE TO SIGN UP FOR OUR LIFESTYLE NEWSLETTER
Those who serve as the kitchen manager are given a fun, festive apron, purchased by Rast Cederberg's mom, to denote the one in charge of the kitchen during their allotted time.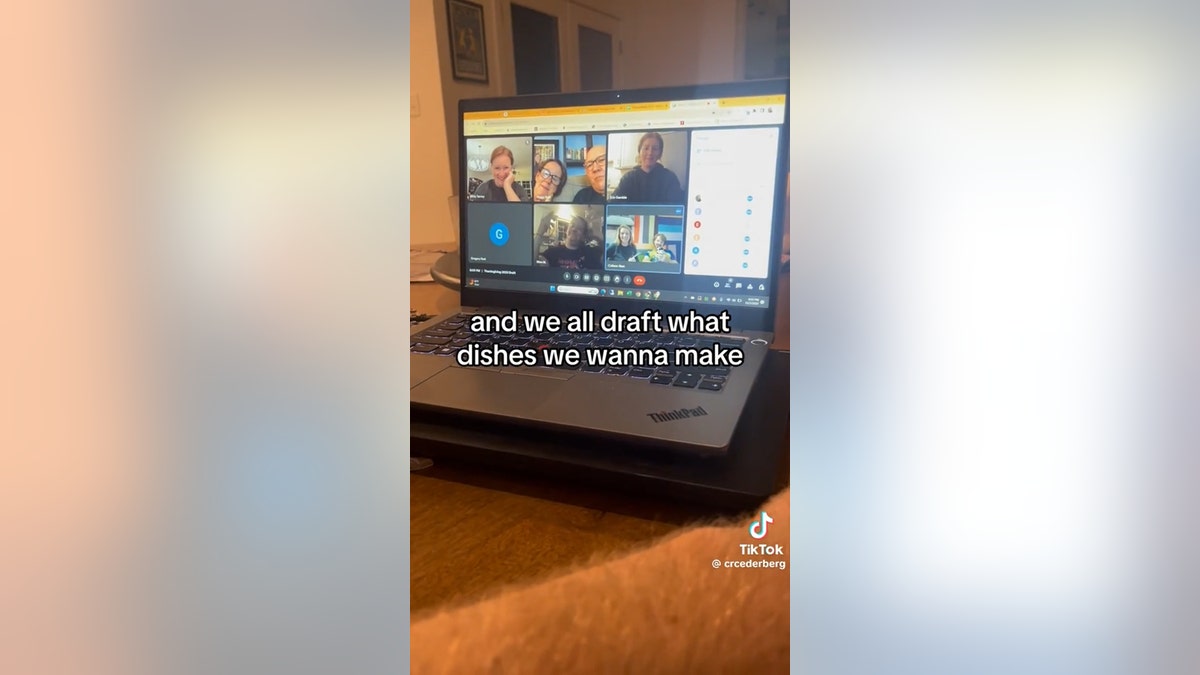 "Some people are like, 'I have no interest in cleaning, so I will take on more food tasks' and others are like, 'I have no interest in cooking, so I'm [cleaning],'" she described.
The initial idea behind the "Thanksgiving Draft" originated in 2017, but it has become more formal in recent years.
CLICK HERE TO GET THE FOX NEWS APP
"It's kind of fun in a weird way because everything is settled and you just know how the day is going to run [because] you know what your responsibilities are," Rast Cederberg commented.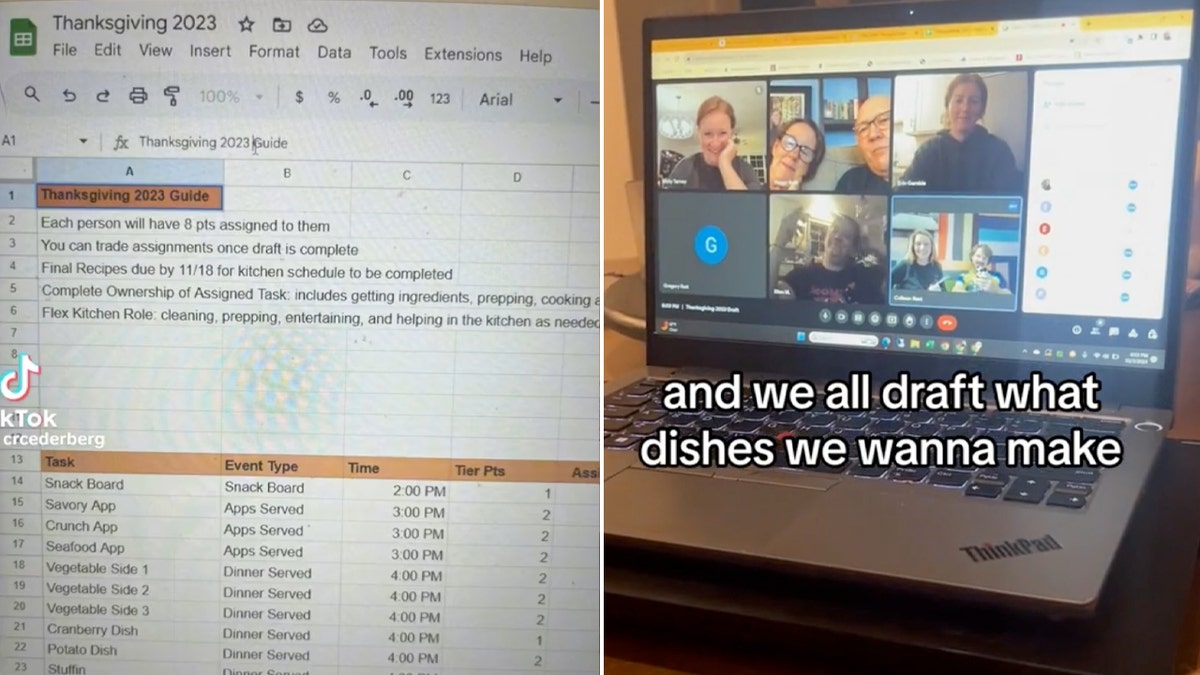 While some members of her family may roll their eyes at the "outline of rules and responsibilities on Thanksgiving," everyone participates and ultimately has an enjoyable time, Rast Cederberg said.
For more Lifestyle articles, visit www.foxnews.com/lifestyle.