An email from Michigan Tech suggested professor Dr. Carl Blair has been replaced following his rant against the school's Young Americans for Freedom chapter.
The Young America's Foundation (YAF), which created the Young Americans for Freedom activist group, released audio on Tuesday that featured the history and anthropology professor appearing to launch into a tirade against the organization following its Freedom Week project on campus. The conservative student group constructed a mock Berlin Wall to commemorate the 34th anniversary of its fall, an act Blair derided as "childish" and "stupid."
"For those of you who weren't aware of it [YAF's Freedom Week activism project], good. For those of you who were aware of it, it was childish, stupid, homophobic, dumb, racist twits. That's the polite version," Blair said.
On Thursday, Fox News Digital obtained a screenshot of an email sent out by Senior Vice President for Academic Affairs Andrew Storer that revealed Blair will be replaced following the Thanksgiving break.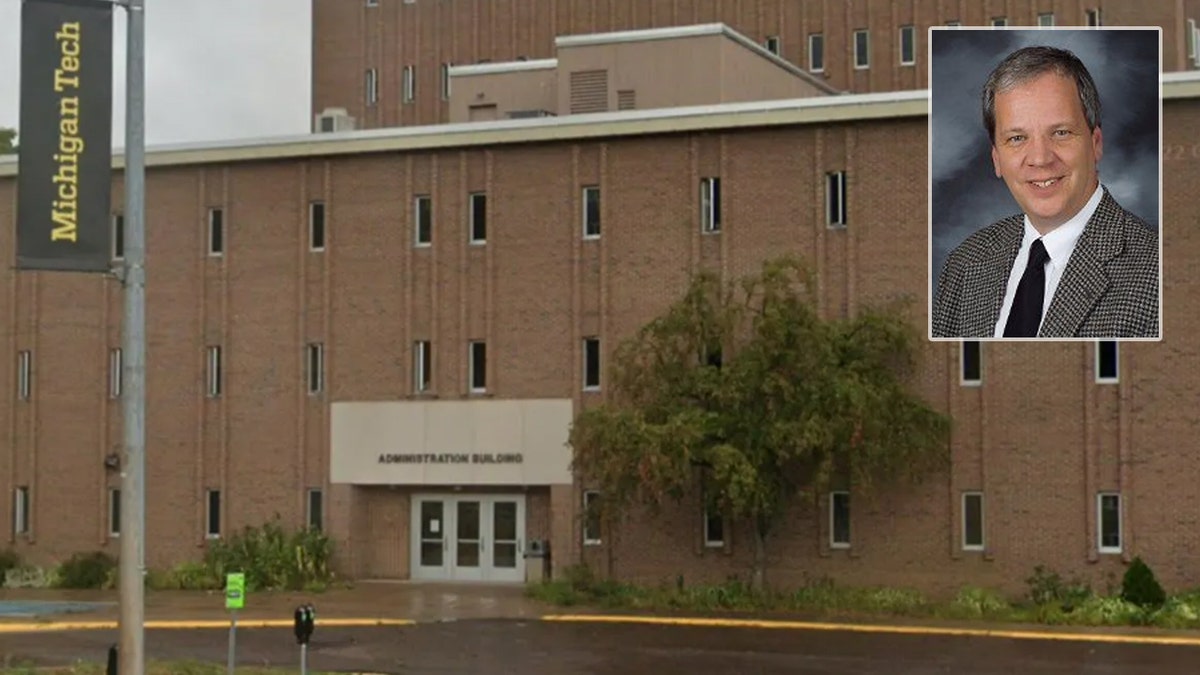 ARIZONA STUDENTS ALLEGEDLY BOMBARDED WITH HAMAS 'PROPAGANDA' IN LESSON CLAIMING 'TERRORIST' IS OFFENSIVE TERM
"As an institution with a strong research focus, Michigan Tech vigorously supports freedom of speech and academic freedom. We follow the Chicago Principles in this manner. With this, we expect an environment of respect and acceptance of diverse perspectives, perhaps most importantly within our classrooms. We regret that this has not been your experience in this class this week," the email read.
It continued, "Tomorrow's class (Friday Nov. 17) has been canceled, and upon return after the Thanksgiving break, we have arranged for a different instructor for the remainder of the semester. You will receive information from your new instructor prior to the first day of class after break."
Storer also referred students to Dr. Don Lafreniere, Chair of the Department of Social Sciences, along with the Dean of Students Office for any other issues.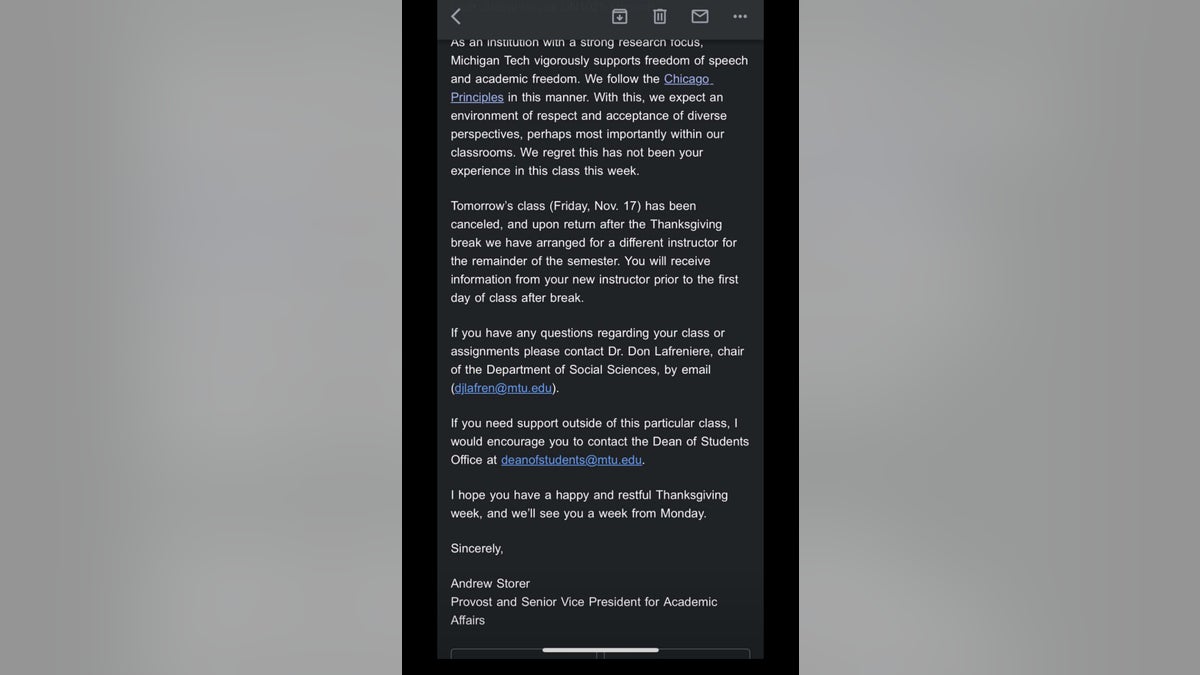 Fox News Digital reached out to Michigan Technological University for confirmation. The school confirmed that an email was sent out but did not reference Blair directly.
CHICAGO COLLEGE PROFESSOR JUSTIFIES HAMAS ATTACK 'AFTER 75 YEARS OF ISRAELI WHITE SUPREMACY'
"Students in the class were sent an email today, but the university does not comment on personnel matters," the university said.
YAF's magazine publication, "The New Guard," previously reached out to Blair for a comment on his rant. He allegedly responded, "I stand by my words and I have nothing else to say to you," before hanging up.
YAF also released a statement following the incident saying, "Young Americans for Freedom at Michigan Tech stands by free speech on all campuses across the United States. We do so in the face of insults from a professor and others who think First Amendment protections only apply to their worldview. The student who vandalized our display has the right to free speech, but went too far, endangering people and damaging property. Our chapter seeks civil conversation on a diverse variety of topics and positions."
The statement about vandalism referred to YAF accusing a leftist student of spray painting and tearing down its Berlin Wall display.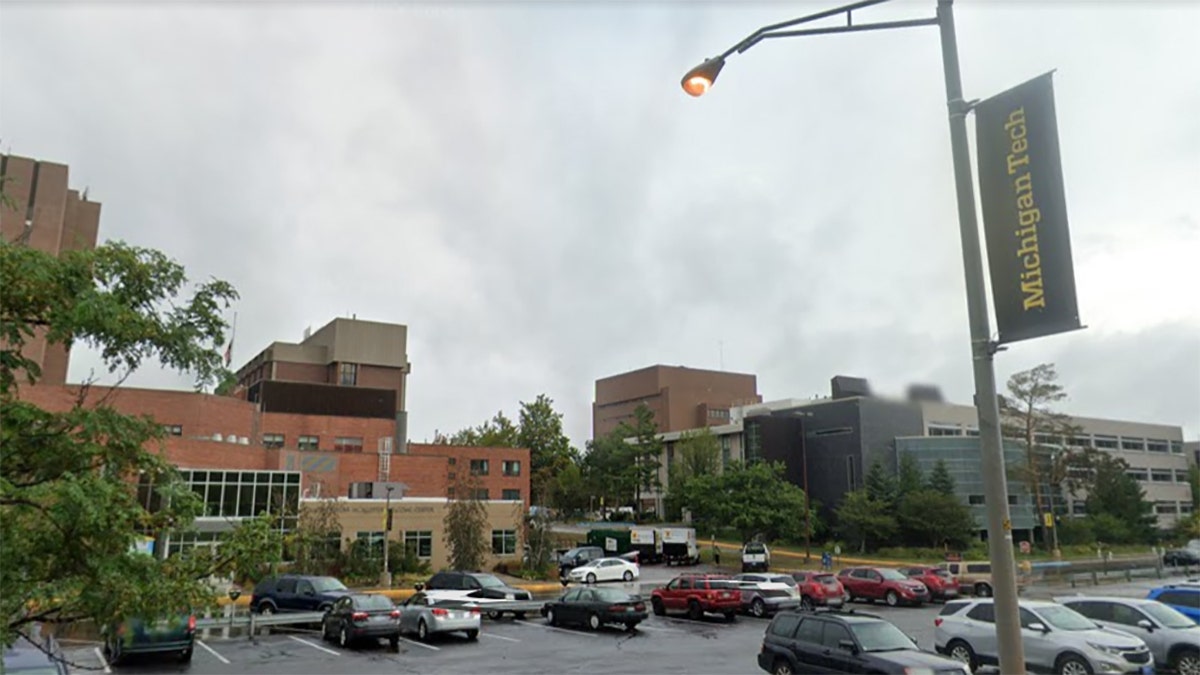 CLICK HERE TO GET THE FOX NEWS APP
After the email was sent out, Andrew Keys, chairman of Michigan Tech YAF, remarked, "We're very glad that the university is standing up for free speech and won't back down even when professors go against it."
For more Culture, Media, Education, Opinion, and channel coverage, visit foxnews.com/media.