Demonstrators led by the group Jewish Voice for Peace gathered at the rotunda inside the Oakland Federal Building in California on Monday to protest the ongoing war between Israel and Hamas terrorists.
Jewish Voice for Peace, which describes itself as the "largest progressive Jewish anti-Zionist organization in the world," posted on X Monday evening that "more than 700 Bay Area Jews and allies" were participating in the protest, which was part of a national week of Jewish-led protests calling for a cease-fire.
"We are not leaving, we demand an end to this bloodshed, we will not see Jewish grief used to perpetuate genocide," the post read.
Law enforcement began making arrests at around 8 p.m. local time after demonstrators refused orders to vacate the area, according to KTVU.
NORTHWESTERN UNIVERSITY PRESIDENT CALLS ON STUDENTS TO CONDEMN ANTISEMITIC PHRASES; SCHOOL GROUP CLAPS BACK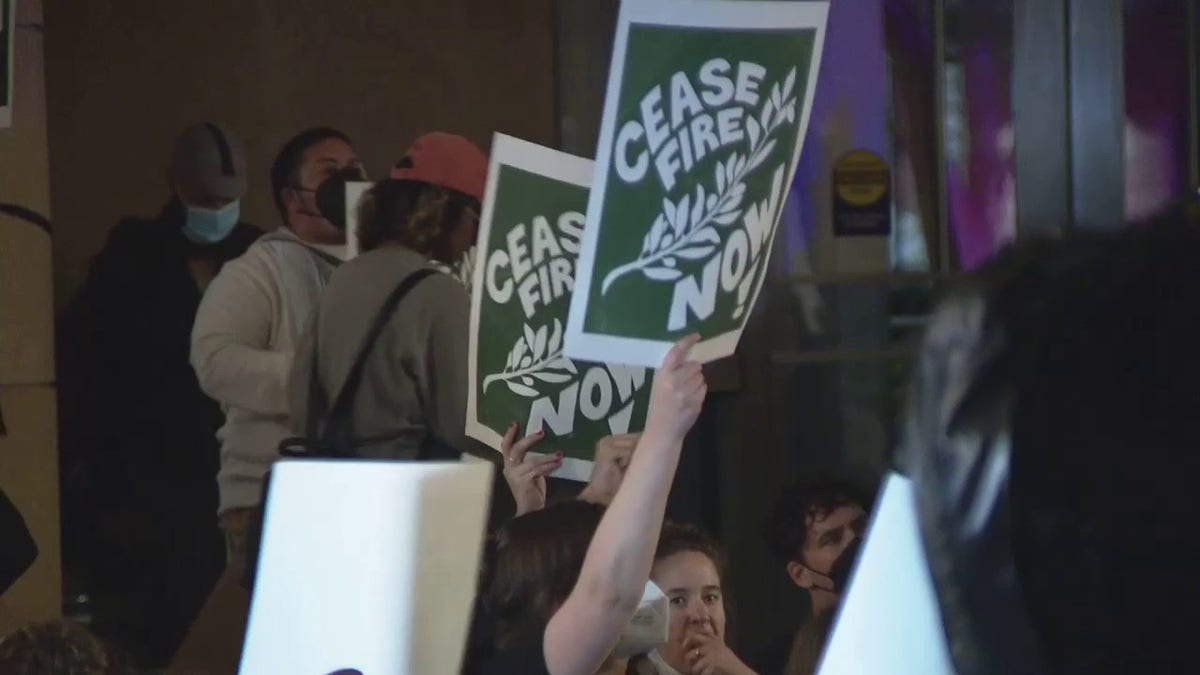 President Biden, whose administration has pushed back on calls for a cease-fire, is expected to arrive in the Bay Area on Tuesday for the Asia-Pacific Economic Cooperation summit. Jewish Voice for Peace said it is calling on Biden and Vice President Harris to join Rep. Barbara Lee, D-Calif., in calling for an immediate cease-fire.
"We demand an immediate ceasefire(sic) to protect innocent lives, deliver humanitarian aid to Palestinians, ensure hostage's(sic) safe return and stop the violence," Lee said in a statement.
More than 11,000 people have been killed in Gaza and Israel since Hamas launched its largest attack against Israel in decades on Oct. 7, prompting a military response from Israeli forces. Thousands more have been wounded, and many others have been taken hostage by Hamas and raped, tortured and murdered.
The protesters said this was the first mass Jewish sit-in on the West Coast, although similar demonstrations have been held at Grand Central Station in New York and the Israeli consulate in Chicago.
CELEBRITY PAIR TO SEND MESSAGE TO JEWISH STUDENTS AFTER TROUBLING INCIDENTS ON IVY LEAGUE CAMPUS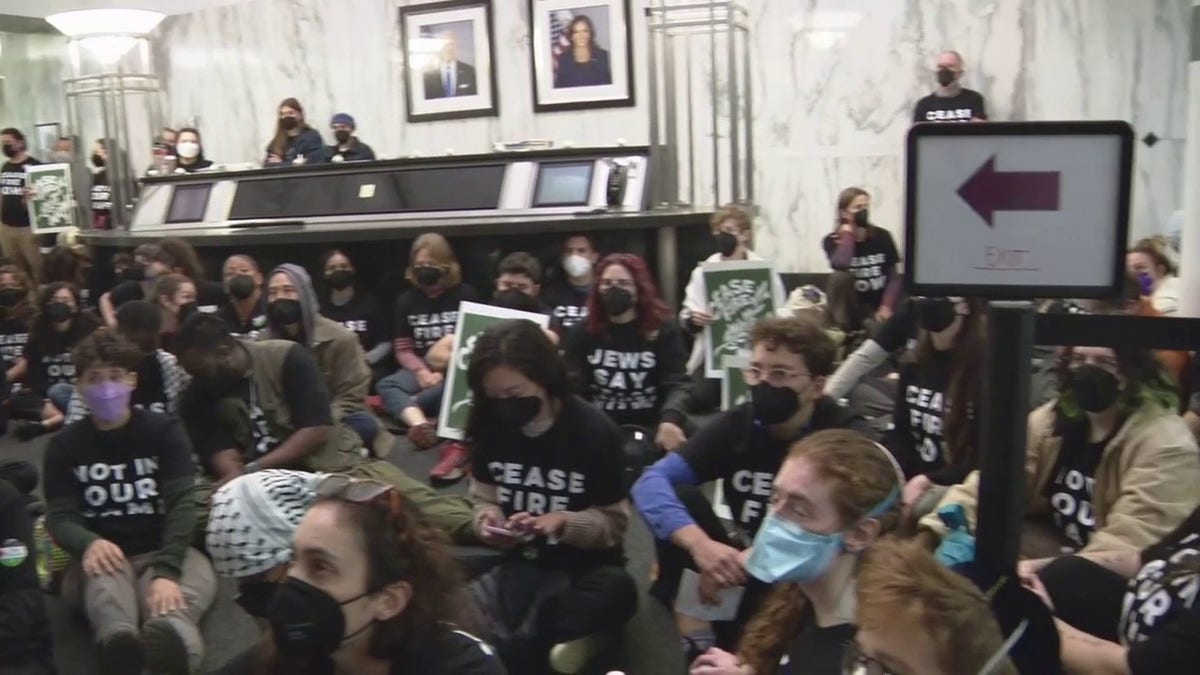 Federal employees were forced to evacuate the building when protesters overtook it on Monday, according to KTVU. In a live stream on the JVP Bay Area Facebook, the protesters could be seen carrying banners and signs while clapping and chanting.
Filmmaker Boots Riley, of Oakland, was among the protesters at the federal building and wrote on X that "the govt of Israel does not act on behalf of, nor represent Jewish people," adding that "a bunch of us are only leaving if it's in handcuffs."
Rabbi Lynn Gottlieb urged U.S. officials to end aid to Israel amid the ongoing conflict in the region, according to KTVU. Gottlieb said she has friends who have died in Gaza during the ongoing war between Israel and Hamas.
"We're asking that Gazans and Palestinians in the West Bank live and to stop sending U.S. military aid to Israel," Gottlieb said. "We are here today because our religious tradition tells us to save one life is to save an entire world."
"We are not going away no matter what happens here today in this moment," she added. "We are joining with tens of thousands, if not, millions all over the world to ask our leaders to stop killing Palestinian people."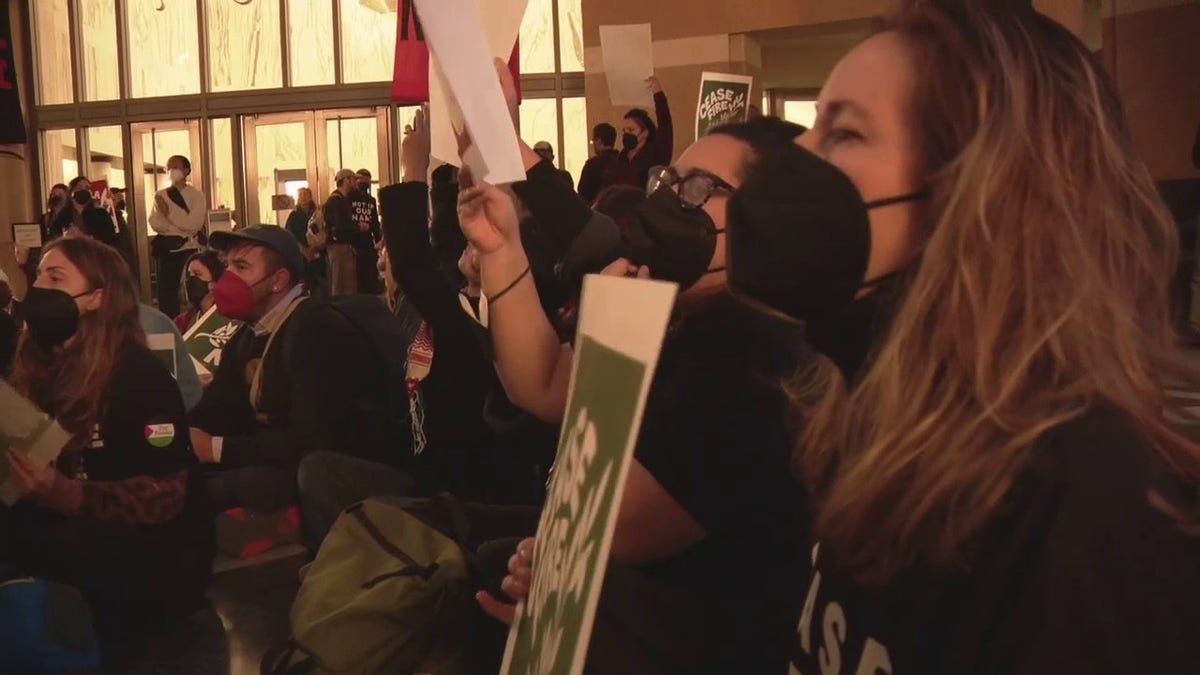 CLICK HERE TO GET THE FOX NEWS APP
Gottlieb said the protesters claim there is a link between Jewish safety and Palestinian safety.
"We will get nowhere if we continue to fight wars against civilians," she said.
Last week, Israel agreed to a four-hour daily pause in Gaza to allow civilians to evacuate the region.