NEWYou can now listen to Fox News articles!
If I have learned anything over my years of working with pregnant women, I have learned that when a woman knows she's loved, supported and believed in, she can do anything. So, this past week, when New York gave up its efforts to interfere with our confidential services to women, we rejoiced at the victory.
I am a member of the Sisters of Life, a Catholic community of religious women founded by Cardinal O'Connor in 1991, who devote themselves to God by professing vows of poverty, chastity and obedience. We also take a fourth vow: to protect the sacredness of human life.
Over the past 30 years, we have poured countless cups of tea as we have listened to the stories of the women who have knocked on our doors. Each year at our Visitation Mission in New York, we receive the hopes and fears of hundreds of pregnant women who find themselves overwhelmed by their unexpected pregnancies.
'MARCH FOR LIFE' REVEALS THEME FOR 2024 EVENT IN POST-ROE UNITED STATES
Each woman's story is unique, and yet we constantly hear the fear of being alone, the pain of abandonment by those closest to her, and the worry that if she has this baby, her life is over. It can be very disorienting. This is a time when she needs support the most.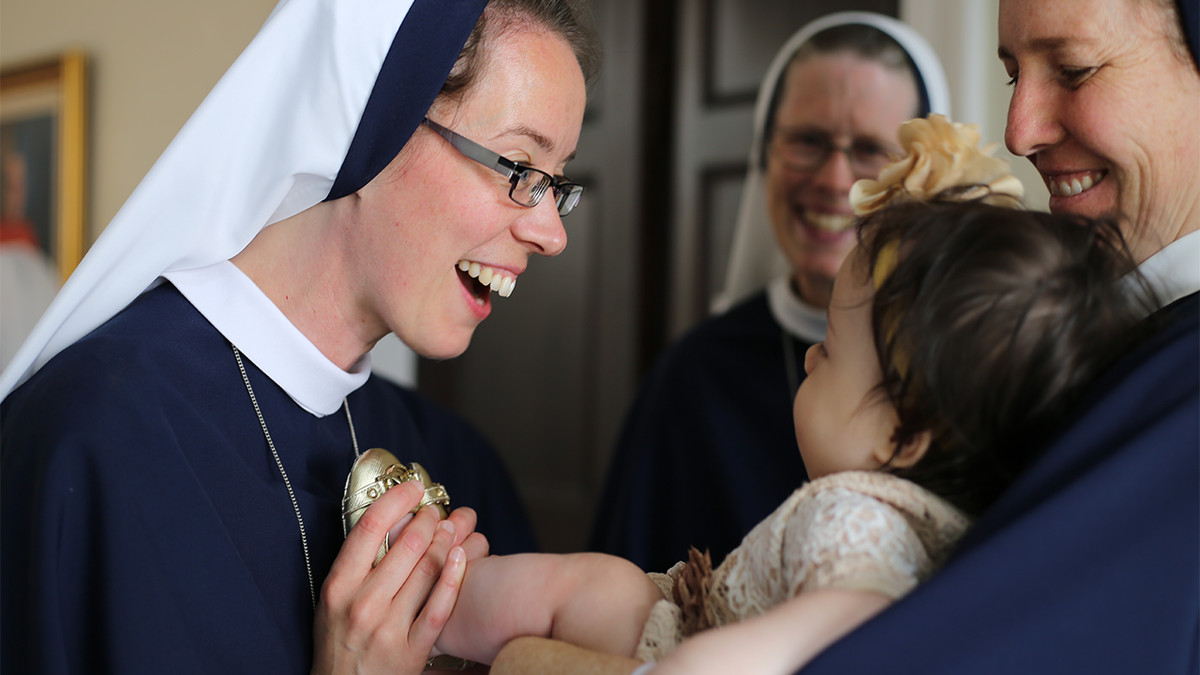 We have long offered women free housing, clothes, diapers and other supplies before and after they give birth. We connect women and their children to free medical, legal and social services. We ensure that vulnerable children have access to daycare and special needs resources. We help women with spiritual support, counseling, school applications, job training and budgeting.
Everything we do is for love of the woman who seeks our help and is aimed at attending to her physical, spiritual and emotional needs. We have also made it a priority to accompany women who are seeking hope and healing after their experience of abortion. It's our privilege to walk alongside each woman who comes to us and to stand in solidarity with her, helping her to move in freedom, not in fear.
But in June 2022, the state of New York passed a law targeting our ministry. That law allows government officials to look through the internal documents of pro-life pregnancy centers, including information about the women they serve.
Our Visitation Mission is a place where women can feel safe with the knowledge that their histories, hopes and fears are kept confidential. Many are in search of a refuge from physically and/or sexually abusive partners. Turning over information about these women and their conversations with us would only jeopardize our relationships of trust with women who come to us for help.
Last fall, with the help of our attorneys, the Becket Fund for Religious Liberty, we asked a federal court to uphold our ability to care for expectant mothers in need. We asked for a court order forbidding New York from demanding our information or punishing us for refusing to provide it.
CLICK HERE FOR MORE FOX NEWS OPINION
Although this law was enacted with much publicity, the government was disinterested in defending it. Over the past year, the case did not move forward, because the state repeatedly delayed the case rather than defend it.
The federal judge recently gave the order we wanted, forbidding New York from demanding our information or punishing us for not providing it. And the state ended up agreeing not to enforce its law against us — rather than having to defend that law in court.
CLICK HERE TO GET THE FOX NEWS APP
The judge's order will protect us as we continue our ministry. As Sisters of Life captivated by the truth of the beauty of every person, created in God's image, we believe that each life has deep meaning and worth.
In every woman that walks through our doors, we see the unique goodness and beauty that may be hidden to her in her time of need. By our presence, love and support we say to her, "We believe in you. You are worth fighting for." In fact, we give our lives for that truth. And we are grateful for this victory, which protects our right to continue to uphold and defend the beauty and strength of women.