This is one of two Fox News Polls released Thursday.
Most voters are concerned about inflation and higher prices. Three-quarters say the economy is in bad shape, and two-thirds don't see any signs that it's turning around.
That's the current mood of the nation, according to the latest Fox News survey.
Only 29% optimistically say the worst is over on the economy, an improvement from 25% in 2022.
But more than twice as many, 67%, don't see any signs the economy has started to turn the corner. That includes most Republicans (84%) and independents (77%).
Among Democrats, nearly half don't believe the worst is over (46%), a majority thinks the economy is in bad shape (59%), and most are worried about inflation (84%).
BIDEN BASHED FOR CLAIMING TO SEE ECONOMY 'THROUGH THE EYES' OF SCRANTON, NOT WALL STREET: 'YOUR ECONOMY SUCKS'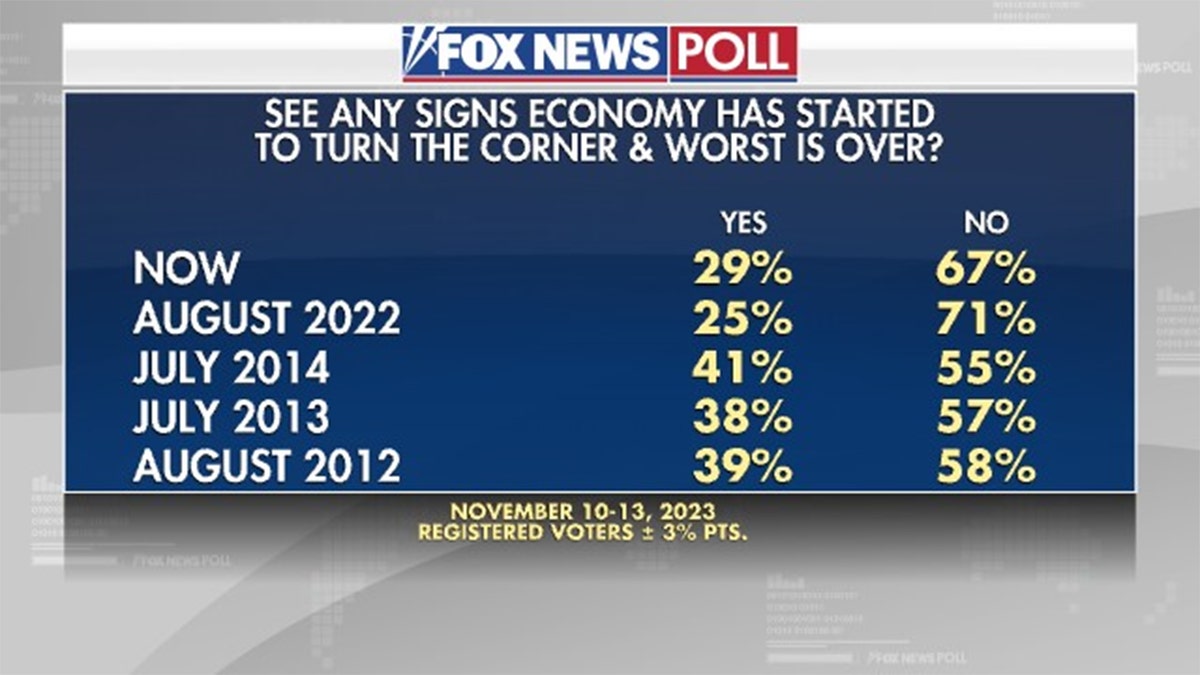 Overall, 89% are concerned about inflation. While that's about where the level of concern has been hovering for the last year, it's down from a high of 93% in July 2022.
But to be clear, inflation remains the top concern, outdistancing other priorities like threats to personal rights and freedoms (82% concerned), higher crime (82%), political divisions (82%), the Israel-Hamas war (74%), terrorist attacks (73%), gun laws (72%), and abortion (71%).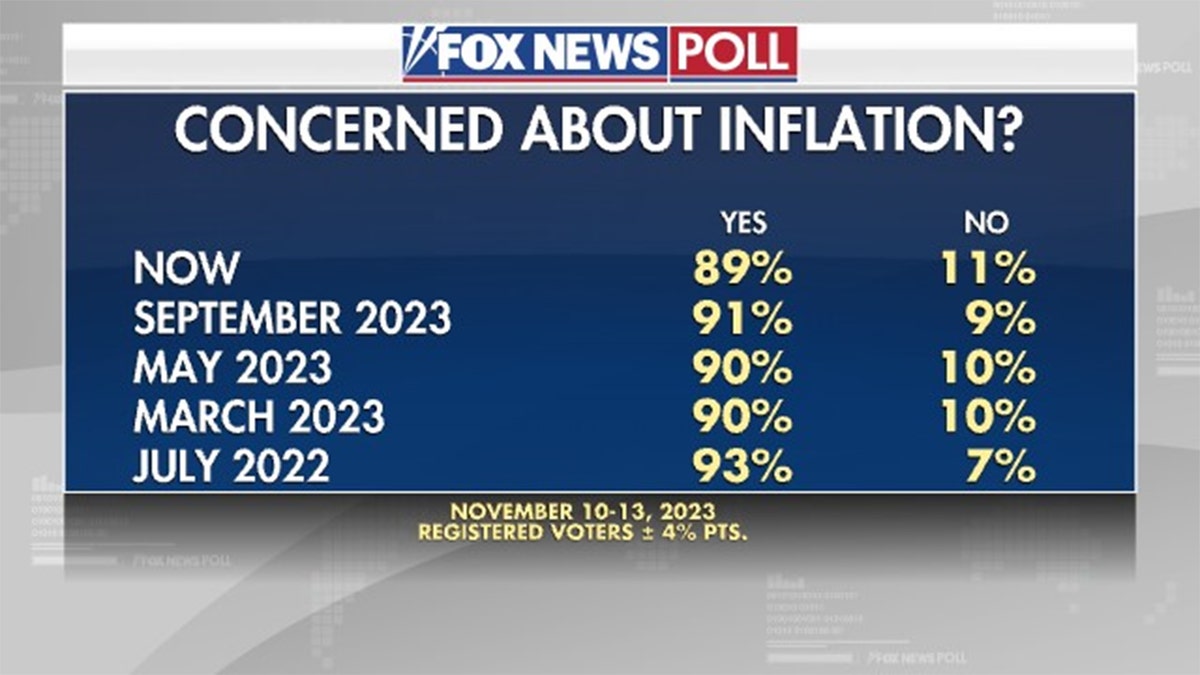 Seventy-eight percent of voters rate the economy negatively, including 47% who describe it as being in "poor" condition — that's worse by 19 points compared to the early days of the Biden administration. In April 2021, 28% said conditions were poor.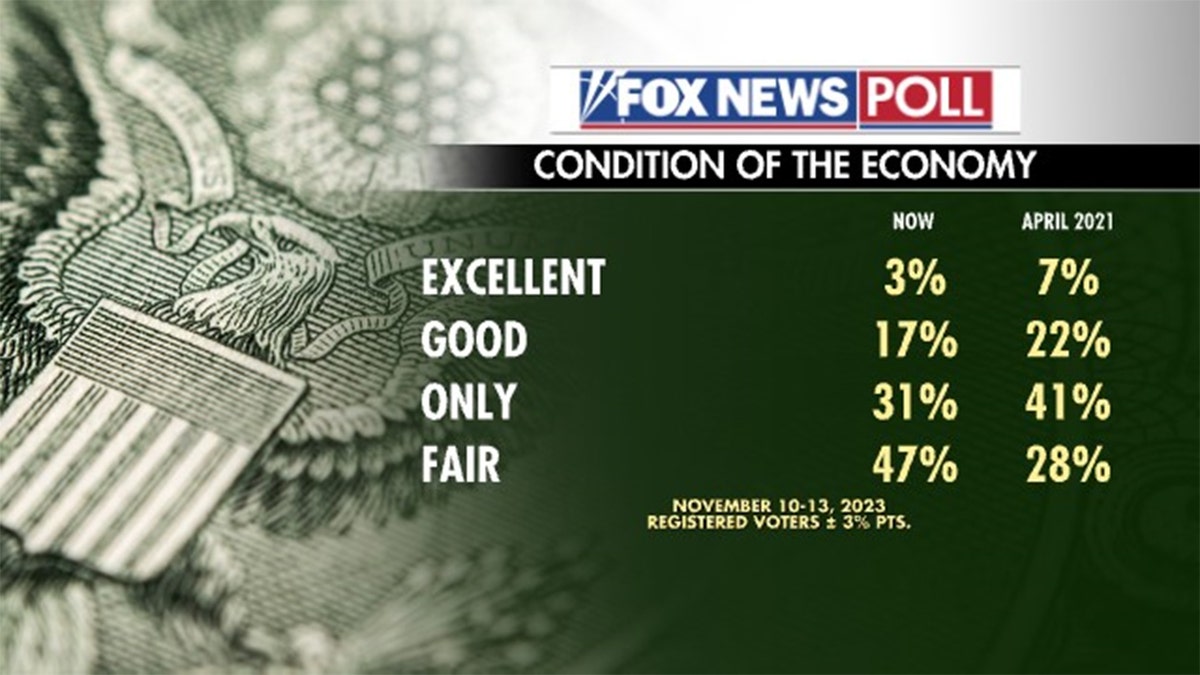 "Two things are driving negative economic ratings," says Democratic pollster Chris Anderson, whose firm Beacon Research conducts the Fox News survey along with Republican Daron Shaw. "One is inflation is still biting. It has slowed, but prices haven't come down. The second is partisanship. Republicans almost universally give negative ratings to the economy, while during Trump's presidency Democrats gave highly negative ratings. Personal fortunes have not changed along partisan lines since then, but presidents have."
EXPERT DETAILS THE IMPACTS THE 'GREAT TRUCKING RECESSION' WILL HAVE ON AMERICANS
President Biden's job rating is negative by 19 points: 40% approve and 59% disapprove. That matches a low point also hit in July 2022.
His low approval number is driven by new lows among men (37% approve), voters under age 45 (37%), Hispanic voters (38%), and college graduates (43%).
About four years ago, in late-October 2019, former President Trump's job rating was negative by 15 points (42-57%).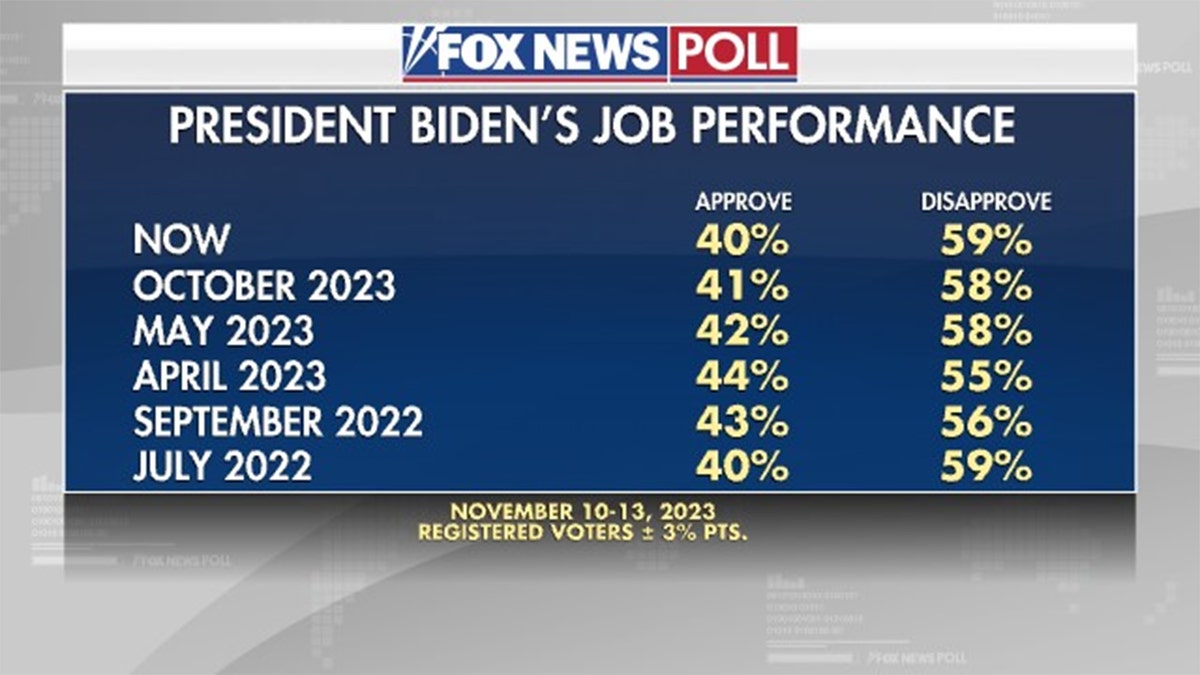 Biden's marks on issues are also grim. He's underwater by 40 points on inflation (29% approve, 69% disapprove), -32 points on the economy (33-65%), -31 points on immigration (33-64%), -23 points on guns (36-59%), -16 points on his handling of the Israel-Hamas war (39-55%), and -17 points on national security (40-57%).
Among Democrats, Biden's worst rating is 56% approval on inflation, while his best rating among Republicans is 18% on Israel.
For independents, his highest is 33% approval on national security and lowest is 19% on the economy.
"After the 2023 elections, some analysts argued Democrats don't have a problem, Biden has a problem," says Shaw. "The data here suggest there's something to that. The president's marks on almost all issues are bad and getting worse."
ECONOMISTS WARN BIDEN CAN'T BET ON STRONG ECONOMY DURING ELECTION CAMPAIGN: 'PRICES ARE STILL TOO HIGH'
Voters were also asked to share – in their own words – why they give Biden good or bad marks.
The reasons most frequently offered for why they approve are his handling of the economy/inflation (23%), in general "doing a good job" (13%), his accomplishments (12%), he's looking out for the American people (12%), he's better than Trump (7%), his handling of foreign policy (7%), and he's a good person (6%).
The biggest change since this summer is among those saying they approve of Biden because he's "better than Trump" — that number has fallen 8 percentage points, from 15% in August to 7% today.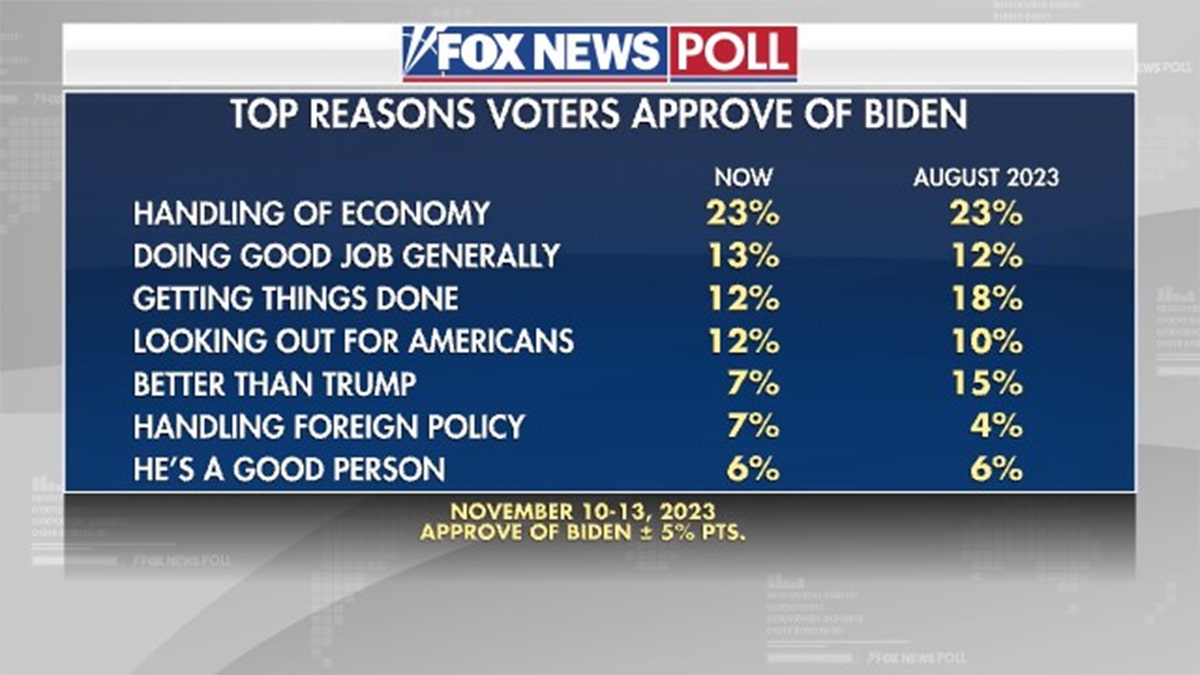 The main reason given for disapproving is also the top reason for approving — Biden's handling of the economy/inflation (25%). Others disapprove because of his age/mental state (18%, up from 14% in August), they think Biden is generally doing a bad job (12%), his handling of foreign policy and border/immigration (8% each), and he's not looking out for the American people (7%).
CLICK TO GET THE FOX NEWS APP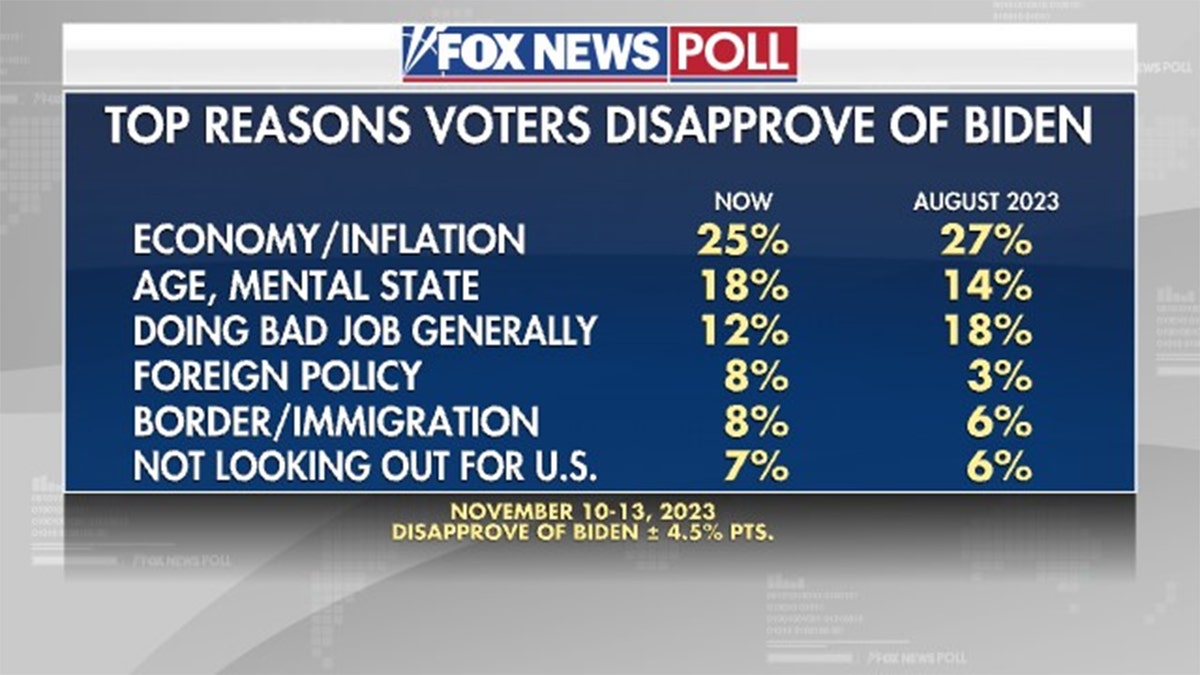 CLICK HERE FOR TOPLINES AND CROSSTABS
Conducted November 10-13, 2023, under the joint direction of Beacon Research (D) and Shaw & Company Research (R), this Fox News Poll includes interviews with 1,001 registered voters nationwide who were randomly selected from a voter file and spoke with live interviewers on both landlines and cellphones. The poll has a margin of sampling error of plus or minus 3 percentage points for all registered voters.
Fox News' Victoria Balara contributed to this report.